Thanksgiving is the best. It's not a religious holiday so you don't have to starve yourself or go to services. Thanksgiving is food, family, football, friends and fun.
The holiday is all about giving, and it doesn't ask for much in return.
Thanksgiving doesn't care if we eat at 3:00 or at 7:00. It doesn't care if we stay in or go out. It doesn't even care if we are with others or if we are alone. Thanksgiving only asks that we(before we start feeding our faces) take some time to consider the things we have to be thankful for, and the things we might take for granted.
My daughters (6 and 8 years old) have been learning about Thanksgiving in school so I asked them the following question:
What's Thanksgiving all about?
JJ (The 6 year old):
"It's all about turkeys and Pilgrims and the Indians who helped them, and the Mayflower and when they sailed off from England and went to a new land, and the Indians came and helped them celebrate the first Thanksgiving."
F (The 8 year  old):
"Thanksgiving is all about, well, the theme is turkey and food, and thanking people for coming over to our house or to someone's house."
Not one word about "being grateful," but I'm not surprised because I don't think they understand the concept just yet. Well, JJ kind of does. She is pretty grateful for all she has and the life she leads. The other one though, NO. She's completely immune to being grateful. It's a sore point for me because the thought of raising an ungrateful child scares me.
My daughter, F, is 8 years old.
F's most used word is "Keneye." Keneye is supposed to be "Can I," but lately I've noticed it's become all one word. Keneye get a new doll? Keneye get that necklace? Keneye get one of those?
And when I say "No," that's usually not enough. She's either relentless about the item she's shoving in my face, or she's moved on to something else.  "Mommy, keneye I get THIS? Keneye? Keneye?? Keyeye???"
No, you kennot, and how about putting a cork in that whine and being a little more grateful for all the crap you DO have??
But it's perspective. She's just a child, and sometimes I need to be reminded of that.
I still remember being in the car with my dad and brother when I was young and I blurted out that I "needed" something right as we were pulling into the driveway. (I think it was a new curling iron. It was the 80's.) Whatever it was, it didn't go over well with Daddy. He was all "You don't need ANYTHING.  Do you understand? F**king suburbs. You want to see "NEED?" I'LL SHOW YOU NEED…"
And then I looked at my brother like "Ruh-Ro" and he looked at me like "Are you kidding? We were IN THE DRIVEWAY!"
And off we went to a very bad area in Downtown Detroit where my brother and I saw true "need" for the first time—and I never made the same mistake again.
But F is 8. I'm thinking she's not quite ready for that particular lesson.
I wish she was a little more grateful for what she has though, but being grateful doesn't just come with age, it comes with loss, and no one should know loss at 6 or 8 years old. At least not profound loss.
But some kids do. For all intents and purposes, F suffered a great loss at a very young age. We picked her up in China when she was 11 months old and took her home with us. She lost her country, her language, and the love of several orphanage caregivers. That's a lot to lose at such a young age, but she doesn't remember–and if she does, she's showing ZERO symptoms of trauma.
I want to protect my girls from any feelings of loss, but in order for them to grow into grateful and humble adults, I know that loss is a necessary contributor.
The more we lose, the more we learn to cope—and as responsible adults we need coping skills because if a loss is a truly great one, we never get over it—we just learn to accommodate it.
We do that with the support of good people—all kinds of people. People who have been around for awhile and know your history, and new people offering a fresh start.
People keep you sane after a loss.
Taking time away from people at the start of a loss makes sense (EVERYONE GO AWAY, EXCEPT NETFLIX!!) but after a little while it's good to have people around. We can't be left to our own devices for too long without losing our minds. (It's why solitary confinement is such a severe punishment.)
Being alone, all day long, in your own head. That can't be good.
So, for this Thanksgiving, I know my girls aren't quite ready to be grateful for all the things they have, but I'm hoping they are thankful for the amazing people that surround them. Friends and family and friends who are family.
I hope they know to be grateful for them. I know I am.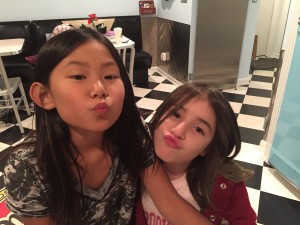 ****************************************************
Happy Thanksgiving! Eat until you have stomach pains!
Facebook : DimSumandDoughnuts
Twitter: RobynCoden
Instagram: dimsumanddoughnuts