My dad used to be a divorce lawyer and this was his motto:
"Love is grand, divorce is one hundred grand. Choose wisely."
Choosing a mate is not the same as choosing a friend. You're allowed to have more than one friend and if you read my last entry "The Friend Philosophy," you know I don't believe in expecting one friend to fulfull all needs. A spouse or partner shouldn't be responsible for fulfilling all needs either, but they need to fill a crap-load of them because last time I checked, we're only allowed to have one.
I figure, if your partner is supposed to be your best, best, best friend…the bar should be really high. And, I also figure, if the bar is high and you don't settle, your chances of landing the "right" person are good, so your chances of staying together are too.
But how do we know who that "right" person is?
We know by dating a whole bunch of the wrong ones.
Dating different people is like eating from a buffet. Grab one plate for each hand and try everything. If you're not into something, move on. At least you gave it a shot and now you know a little more about what you like and what you don't like.
Plus, dating different people helps us learn what our deal breakers are. And we ALL have deal breakers. Deal breakers pop up in almost every relationship, but if we stay strong and stand up for our convictions, they are very helpful in weeding out the wrong people.
Some deal breakers are big: "I need to break up with you because it has come to my attention that you're sleeping with a whole bunch of other girls. I am not OK with that. By the way, I threw out all of your crap except for the things I'm going to keep. Tootles!"
And some deal breakers are even BIGGER: "I'm sorry. I thought this had a chance of working out but it's kind of bugging me that you wear your jeans really high. No, I DON'T think that's a stupid reason to break up. …What? I'm not "all that?" Well, that may be, but AT LEAST MY JEANS AREN'T UP TO MY ARMPITS. Later, Erkel."
I believe it's a good idea to date a lot of people because in the end, when we meet the right person, we're ready. We know what we want and, more importantly, we know what we don't want.
You may think that I'm painting with a broad brush (probably because I am) but please know I'm not saying that those who got married without dating a lot, or those who got married real young, did the wrong thing. I'm not saying that at all. I won't be recommending it to my kids, but obviously there are some people who got really lucky and found their soul mate early on. I have some friends who got married to high school or college sweethearts and they are totally solid.
It happens.
But look around. More often than not, it doesn't.
It seems that most of the time those who pull the trigger too soon or for the wrong reasons end up divorced or married-but-miserable. Sure, it was great in the beginning. Everyone loved the little hot dog appetizers that Bride and Groom served at the wedding, and Bride was elated when she got the KitchenAid Tilt Head Classic Mixer she registered for (I got one too and if you want it, it's in the closet of my laundry room) but one day Bride woke up and realized that she and Groom had grown apart.
How did that happen? Were they not paying attention, or were they always quite different?
No, they weren't different. They were perfect. At least on paper.
When they got married everything matched up perfectly: Same religion? Check. Stable jobs? Check. So cute that they both love strawberry ice cream? Check. But now Bride is no longer the same person she was when she got married. Bride is not so into strawberry ice cream anymore.  (WHAT? OH NO SHE DI'INT!) Oh yes, she's likes mint chocolate chip now. But Groom…Groom still likes strawberry ice cream and not only does he not understand why Bride no longer likes it, he resents her for it. But guess what? Bride resents him too! She used to think it was so cute that he loved strawberry ice cream but now it's annoying to her and what's more, she resents that in 10 years he hasn't changed one bit except for the fact that he is now older with a slower metabolism so the strawberry ice cream has manifested itself as a spare tire around his waist that could double as a flotation device.
That kind of scenario sometimes (many times) happens when we marry too young, too soon or for the wrong reasons.
So, how can we keep that from happening? What can we do to prevent ourselves from becoming disenchanted with our spouse?
I don't know a lot, but I do know one thing: It's a lot harder to be happy in a marriage when the person you're married to is no longer the "right" person, and not only that—it's possible that he never was.
Why rush it? What's the hurry?
You're getting too old? Please. Marry the wrong person and you'll be even older when you have to start over. Plus, if you wait until you're older to get married, you have a better chance of staying together because you won't have as many years to get sick of him.
All of your friends are married? Keep those friends and find some new ones who aren't. They're out there (probably divorced because they married the wrong person).
You want a baby? Great. No one's stopping you, mama. Adopt a baby. You don't need a man for that. But adoption is expensive. Ain't that the truth, but so are weddings, especially when they end in divorce.
There are no guarantees when we say "I do." I know that. Most people don't go into a marriage saying "Til death or divorce do us part," but things happen over time, people change, and although most of us give it our best shot, sometimes a marriage just can't be saved.
With friends, we have the luxury of calling on the ones we need depending on the circumstances. With a spouse, we have one only one, and I think (and this is just me) but I think it helps to sample as much as possible from the "dating buffet" before ultimately choosing the "one," because otherwise, the one you take that ring from—the one you choose to lean on and grow old with—the one you think is Mr. Right…well, he might really be Mr. Right Now.
And Mr. Right Now is great. But only for now.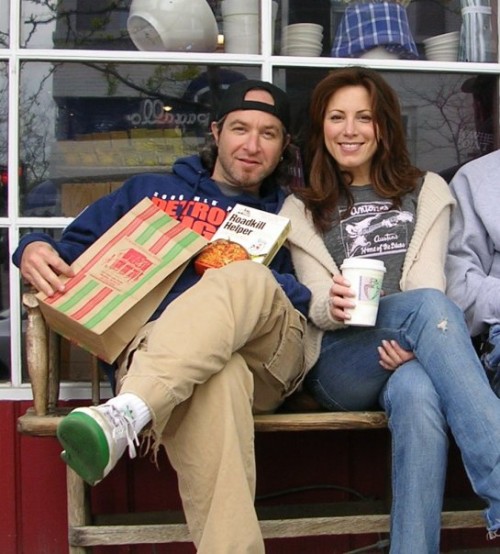 ************************************
Thanks for being here!
Facebook : DimSumandDoughnuts
Twitter: RobynCoden
Instagram: dimsumanddoughnuts