The busses came rolling in around 11:30 this morning. Kids ranging in age from 6 to 15 came barreling out one by one to a singing, cheering, clapping group of high energy staff members holding up painted signs signifying cabin assignments.
The returning campers were "home"–hugging the staff they remembered from last summer and excited for all of the new memories they would soon be making this summer. The new campers were torn–anxious about being away from home, but excited about what the summer would bring, all the while hoping that whatever mommy forced them to eat for breakfast wouldn't make an unwelcome reappearance as they walked with their cabin mates to their new home. Either way, as soon as their feet hit the ground coming off those buses, the moment was marked.
It's opening day at Camp Tanuga, and if there was a list of people who are very excited about this season, I'd be somewhere at the top.
The luggage was shipped a week ago so the counselors had time to unpack all the bags and make all the beds. Each cabin does their own thing to get the kids acclimated to camp and to one another. I saw one cabin of girls sitting in a circle introducing themselves and I saw another group sprawled out all over their cabin hanging posters of Justin Bieber and discussing the sparkle nail polish they brought to camp (nail polish I will be borrowing).
I didn't make it to the boys' side for the intro part of the day but I imagine they all introduced themselves to each other and then punched each other in the arm or something. I have no idea. I was too busy hassling one of the oldest boys for the 2010 Eminem/Jay Z concert shirt he was wearing.
On to the Mess Hall for lunch. Today's menu: Make-Your-Own-Tacos, Salad bar, Vegetarian Mexican Soup, Churros and of course, Bug Juice. I'm not exactly sure what Vegetarian Mexican Soup is, but we have a chef on staff who is really good and so was the soup. I witnessed some of the youngest boys stuffing their faces with four to five tacos. Clearly they had no trouble making themselves right at home. One kid boasted that he ate 13 churros–seems a little excessive, but impressive all the same.
It took about one minute after the lunch announcements to end before the older campers got up and started chanting, cheering, stomping and pounding. The Mess Hall got really loud really fast.
Welcome to Camp.
Normally, there is a period of time called Rest Hour after lunch, but who has time for that today? It's Opening Day! Time for Swim Test Rotation! The campers have to pass a test that decides what water activities they will be permitted to do. I usually stop by with my pooch, Floyd Coden, to walk the docks, cheer for the campers and check out all the cute bathing suits.
After that, it's back to the Mess Hall for Instructional Sign Up. The campers get to choose from all sorts of activities: Horseback Riding, Waterskiing, Tubing, Trapeze, Canoeing, High Ropes Course, Rock Climbing Wall, Tennis, Drama, Dance, Arts and Crafts, etc). Basically, it's Club Med for kids, but we don't have a bubble machine or people walking around in banana-hammock bathing suits.
While walking around looking for action, I found my husband, Cody, at the Camp Store going over Store Orientation with the campers. He talked to them about mail, packages, restrictions on their store accounts, that kind of thing. I like to do bunny ears behind Cody's head while he is doing this. He explains to the campers that they can get an unlimited amount of mail, one package a week, and his or her own Store account. In other words, if a camper comes into the Store looking to be a big shot "I'll take a round of those Little Hug drinks in all flavors for my cabin. It's on me, just put it on my store account!" Yeah…that's not happening, but I'm sure your parents would be pleased with how generous you attempted to be with their money.
The Store is one of my favorite places at camp. If I have an extra few minutes during my day, I like to hang out in the Store and catch up on gossip. I also like to read magazines that might be lying around and browse through all the confiscated candy. We ask that candy or treats not be sent up to camp. It usually works out that several of the parents completely ignore that rule, but that's fine. I just eat it.
At some point in the day, the campers are sent to The Infirmary to go over meds and get a lice check. I am not present for this part of the day because I don't find it to be all that entertaining. As far as I know, none of the kids who have showed up today have lice but since I haven't been down to the Infirmary, I don't know for sure. If you happen to be a parent of a current camper and you sent your kid here with lice, you better cancel your plans for tonight because they just changed. He might be nice, but no thanks on the lice. Come get him.
What is a camp without Milk and Cookies to break up the day? Not a very good one. We had M&M cookies today and they were the big, chewy kind. Apples are always offered at Milk and Cookies but I don't imagine they do too well up against the cookies.
After an outdoor dinner of hamburgers, hotdogs, salad bar and a wide variety of chips, all campers and counselors made a long, silent walk to one of our many camp sights. The first night is always slotted as an introduction to Camp history, songs and awards. Top secret stuff. After the intro comes the Stick Fire Skits and S'mores. Each cabin and counselor introduces themselves in skit form to everyone else at camp and then it's time for S'mores (because the kids haven't had enough to eat yet today).
After Taps is played, it's about that time. Time for bed. It's late and it's been a long day. There are inevitably some homesick kids during this time–that is if they're not too tired to be homesick. I have found that homesickness usually subsides after the first few days of camp; kids just need some time to get into the groove. I have also found that it is totally normal and not at all unusual for a kid to be homesick. Some kids are more homesick than others, but no matter the degree, homesickness isn't necessarily a bad thing. You can take comfort in knowing that if your kid is homesick, you don't completely suck as a parent. You must be doing something right if your kid misses you that much.
And you definitely did something right by sending your kid to camp because even if the first few nights are a little rough, he'll get over it and then he can add it to his list of all the other things he attempted, and accomplished, at camp.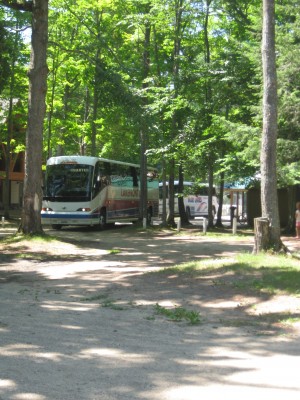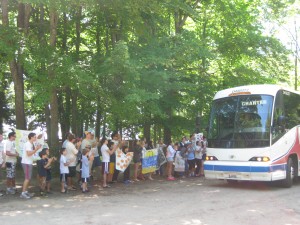 The busses are rolling in!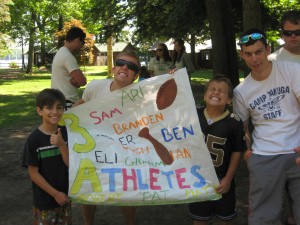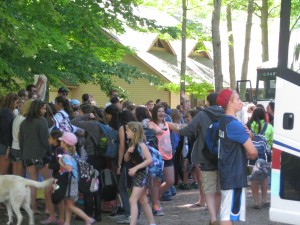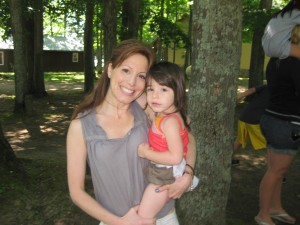 Thanks for being here!
Facebook : DimSumandDoughnuts
Twitter: RobynCoden
Instagram: dimsumanddoughnuts