This past week I got together with Danielle Herzog, and she came up with a game for us. Danielle Herzog is the blogger behind Martinis and Minivans. It's a blog for anyone who has ever needed a martini after driving a minivan around all day. Or for anyone who has just ever needed a martini. She's a freelance writer and mother of two that has written for the Washington Post, Chicago Tribune, The Huffington Post, AOL, and other local and national sites. She also writes a weekly parenting slightly-sarcastic advice column called "The Sassy Housewife" for the Omaha World-Herald's parenting site, Momaha.
Danielle and I never came up with a name for this game but this is what we did:
We had both of our 5 year old girls draw pictures from a movie (anything but FROZEN…please, not Frozen) and our job was to guess the movie. This is what Danielle's daughter drew: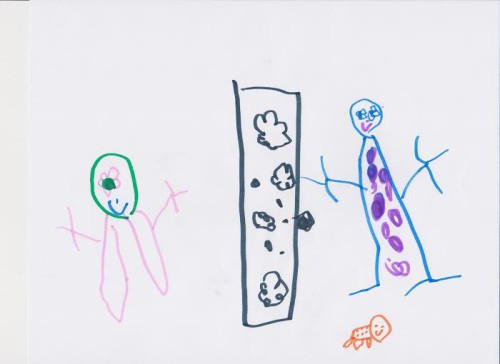 And this was my guess:
Cinderella. See the door? That's Cinderella on one side of the door and that's the wicked step-mom on the other, making her stay there while that one guy came to have everyone try on the glass slipper. And the little orange guy by Cinderella's feet? He is one of the mice, definitely Jacques.
Whaduhya think? Do you have a different guess? If you want, you can share it in the Comments section (just for fun) and then hop over to Martinis and Minivans  in order to find out the answer!…And while you're there, you can check out the picture that JJ did for Danielle. …Do you want to check it out first or should I just tell you what it is? (I'll hold here if you want to check it out first.)
Ready?
It's a Minion from "Despicable Me." But you already knew that. I mean, how could you not? There really are no words for the precision and accuracy. It truly is an aesthetic masterpiece.
OK. I couldn't tell either.
I hope you guys have a good day because Mondays sometimes blow. "Mailbag Monday" will be back next week so start thinking of goooooooood topics and questions, yo! And if you're new to Dim Sum and Doughnuts, thank you for stopping by and I hope you come back. We have fun over here (well, I do)—and you're welcome to bring your martini!
****************************************************************
For more Dim Sum and Doughnuts:
Facebook Page : https://www.facebook.com/dimsumanddoughnuts
Twitter: https://twitter.com/RobynCoden
Instagram: http://instagram.com/dimsumanddoughnuts