I recently walked into a conversation and one of the women was saying that the day she gave birth was the best day of her life. Well, it wasn't for me. It sucked. I was in labor for 16 hours and the pain was unbearable. I have a pretty high tolerance for pain but at one point, I seriously thought I was going to die. I kept asking, begging, YELLING for an epidural but every nurse who came into my room told me that I'd have to wait until I was dialated to 4 cm. Screw you and your 4cm. Find a way to get me there. They did, but it took 8 hours. Eight hours of HELL.
The best day of my life? I think no.
Things didn't get any better when the doctor told me that my baby was face-up, so continuing with my intended plan of giving birth vaginally was no longer a good idea. Really? You're just figuring this out now? You never saw that on any of the ultrasounds, or whatever that test is called where you can see the baby? Did the baby just decide to do a back flip? Is she wearing a Speedo?
He decided I needed an emergency C-section. I wasn't prepared for that. The thought of having an extended stay at the hospital did not thrill me. The idea of not being able to drive for 6 weeks thrilled me less, and I didn't spend 13 years working on my abs only to have my stomach sliced open like a loaf of French bread.
When the extremely young nurse on duty at the time tried to get me to discuss why I was so adverse to a C-section, the conversation didn't go well.
Nurse: Can I ask why you are so upset about having a C-section?
Me: No.
Nurse: What is it that is bothering you about it? You can talk to me.
Me: Um… You're like twelve and We're Not Friends.  What the %$#!? Can someone get her away from me??
I don't remember seeing much of that particular nurse after that (and I later bought her an  "I'm sorry for being such a b**ch" present.)
Listen, I know the girls whose conversation I busted into (uninvited, by the way) weren't referring to memories of their labor pains when they fondly recalled "The best day of their life," but still, I can think of much better days than the day I gave birth.
Like today.
My girls and I didn't do anything special or out of the ordinary, but it was a good day.
We went out for lunch. My husband, Cody, even went with us. Then Cody left. That was dumb of him because we went for ice cream. I said I wouldn't get any, but I did. We shopped. I said I wouldn't buy anything, but I did. My girls played in the dressing rooms, tried on scarves and hid between the racks. I found a new top and my 4-year-old "Sweet Pea" strangled herself with a necklace while my 2-year-old "Lovey" crapped her pants. I, for once, was actually prepared with a dipe and the correct amount of wipes!
We walked. Sweet Pea started complaining she was hot. I was prepared again! I had a change of clothes at the bottom of Lovey's stroller and we dashed into the doorway of an antique shop and changed. Sweet Pea giggled the whole time because she was naked, outside. We walked to the park and the girls played on the slide. They owned that slide. I watched Sweet Pea go prison tough on some kid who mistakenly thought that he too might get a chance at the slide, and I didn't even get up to diffuse the situation. Survival of the fittest, yo!
And also, I was too busy enjoying my day, and the fruits of my labor.
OK, I can't take credit for Sweet Pea, I had no labor with her, a very brave woman in China went through that, but believe me, I'm forever grateful to her for being my pinch hitter and I thank her with every part of my being, because I know how truly horrible a day of birth can be. And I know how hard the road to adoption can be. But in the end, especially on those REAL good days, it sure is worth it.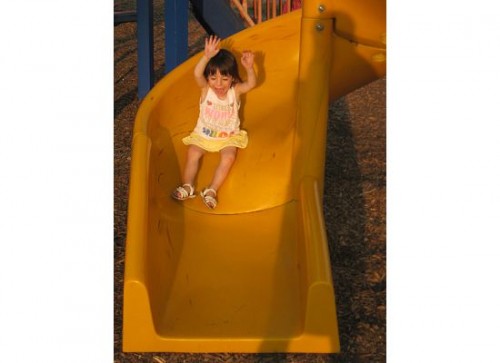 ************************************
Thanks for being here!
Facebook : DimSumandDoughnuts
Twitter: RobynCoden
Instagram: dimsumanddoughnuts