If you look in your backyard, you'll probably see big, thick wires that are horizontally connected to poles. I have no idea what they are called, I think they're called "electrical wires." Anyway, some years ago I was delivering food for Meals On Wheels in downtown Detroit with a bunch of my friends and we were assigned to some very sketchy neighborhoods. There is one house in particular that I will never forget. From where I was sitting in the car, I could plainly see a pit bull in the back yard, running back and forth on a tether and the tether was attached to an electrical wire.
AN ELECTRICAL WIRE.
So I called 911.
911 Lady: What's your emergency?
Me: There is a dog on a tether running back and forth and he's tied to an electrical wire.
911 Lady: Is that really an emergency?
Me: Uh, I think it is. HE IS TIED TO AN E-LEC-TRI-CAL WIRE.
911 Lady: Is he hurt?
Me: Not yet.
911 Lady: Well, I don't know what you want me to do.
Me: But you're the 911 Lady…
911 Lady: Right. I'm not sure what you'd like me to do.
Me: …I don't know what to do either…
And then I looked at my friends in the car who also didn't know what to do, with the dog or with me.
We gathered a few more numbers and placed calls to the electric company, the Humane Society, and whoever else we could think of that might somehow be able to remedy the situation. To this day none of us have any idea what happened to that dog.
I don't know why I feel the need to step in when I witness a wrongdoing or injustice. Some people think it's good that I'm like that but that's not always the case. Some battles aren't mine for fighting. My services aren't always solicited.
If I am in the general vicinity of a conversation where I overhear people talking about someone I know, (and the info they're sharing isn't accurate) I have been known to step in and level the field– especially if the person being discussed  isn't there to do it herself.
No one sent me an evite to join their conversation, but I can't help myself. It's how I'm built.
And my kids are growing up around it. They have seen me speak for those who can't (or won't) speak for themselves on more than one occasion.
In fact, I've done it for them!
Once, when my older daughter "Sweet Pea" was around 18 months old, we were at my friend "Busy's" house and Sweet Pea fell backwards from a chair that was very high off the ground. She hit her head HARD on the floor behind her. My husband, Cody, and I rushed Sweet Pea to the hospital and after the nurses checked us in, we waited. And then we waited some more. After the crying subsided, Sweet Pea was actually acting very normal, smiling and hitting on some old guy in the waiting room, but still—you don't mess with head injuries. We had only adopted her 7 months earlier and, as parents, we had no idea what we were doing.
What if she had internal bleeding? What if she knocked something loose?
It was stressful.
A nurse finally took us back to one of those hospital "staging" rooms. It seemed we were making progress, but we ended up doing the same thing there that we did in the waiting room. We waited.
This time, unfortunately, there was no old man for Sweet Pea to hit on, she was stuck with just us. We had nothing for her to play with, as this wasn't a planned excursion, and she was getting antsy. Cody and I were growing increasingly more and more impatient and that feeling of panic we walked in with was quickly turning to disgust.
We had an 18 month old kid with a possible head injury and we were being ignored.
So, we made the decision to leave. Cody gathered our things while I grabbed Sweet Pea and we proceeded to walk out.
I was right behind Cody as he made his way towards the doors. He was mumbling something under his breath about how bad everyone in the hospital sucked, when all of the sudden I stopped. I turned around (still holding Sweet Pea) and I marched over to the front desk. I was emotionally exhausted and running on anger fumes. I was very calm though. I did not raise my voice. This is what I said:
Me: I feel the need to tell you that I could not be more disappointed in this establishment or this staff. We came in with an 18 MONTH OLD BABY who could possibly have a HEAD INJURY. We have been here for a hour and a half and we have seen everyone but a doctor. You should be ashamed of yourselves and I sincerely hope this is not standard operating procedure for your hospital, because if it is, you suck even more that I already think you do.
One of the nurses: We are so sorry, Ma'am. You are next…you really are next.
Me: Too late. We're done with this place. And don't call me Ma'am. I hate that!
As Sweet Pea and I walked back over to Cody, I found him to be not at all surprised about my little performance. (And I love that the doors to the hospital are automatic because it made my exit that much more dramatic.)
I guess in some respects I've always been like this, but it seems I've become even more vocal as I've gotten older. I'm not sure if that means I care more, or if I care less. I guess maybe I care more about others, and less about what others think.
The incident with Sweet Pea was a no-brainer, but not every situation is like that. On more than one occasion, I have found myself face-to-face with the fine line that runs between "standing up for someone" and "minding my own business." And sometimes I am not sure which side of the line to stand on.
As a parent, standing up for yourself and defending others can be a hard lesson to teach because the boundaries are blurry. We want our kids to have good instincts, act on those instincts, and step up for those who aren't capable of doing it themselves—but we also want them to have the facts, stand up in a graceful way, or know when it's smarter to just back off.
I tell them all the time to "trust your gut." I hope one day they understand that, and I hope they always stand up for each other.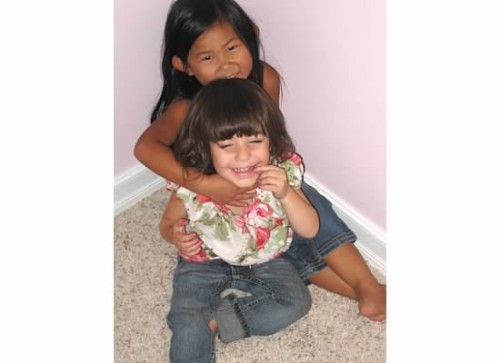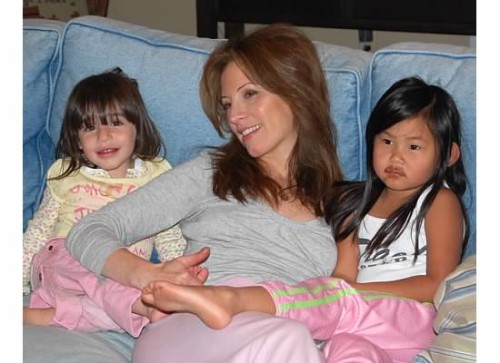 ************************************
Thanks for being here!
Facebook : DimSumandDoughnuts
Twitter: RobynCoden
Instagram: dimsumanddoughnuts