Do you remember where you were on 9/11? I bet you do. How about when John Lennon got shot? Kennedy? I wasn't alive for Kennedy, but I was for Kurt Cobain and I remember exactly where I was when he died. I also remember where I was during the OJ chase. I was living in Columbus, OH and a bunch of my friends and I were at a club celebrating my birthday, but NO ONE was paying attention to me—all eyes were on The Juice.
Epic moments like that stay with you.
June 25th, 2009 was also pretty epic. It was the day Michael Jackson and Farrah Fawcett died.
That was a big day. I was a huge fan of both, so as sad as I am that they're gone, I love that a day remembered for great loss will also be known as a day of great gain:
My youngest daughter, JJ, was born on that day—and now, here we are almost exactly 6 years later.
And it's another huge, landmark day:
Today, same-sex marriage was declared legal in all 50 states. Love is now legal for anyone and everyone EVERYWHERE in the United States. (Truthfully, I thought it already was, because HOW DUMB IS IT THAT IT WASN'T? But I guess it wasn't.)
My girls are still young (6 and 8) so they won't remember a time when same-sex marriage wasn't legal. They won't know any different, and they shouldn't. That liberty shouldn't have been denied in the first place.
They also won't remember where they were when the good news was announced, but I will. We were at camp and I think on some level they KNEW it was going to be a day of PRIDE because look what they chose to wear this morning!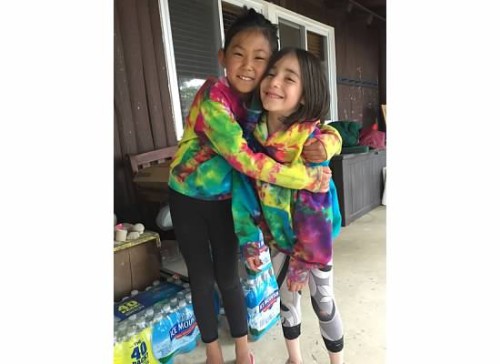 It's like they willed it to happen!
Rainbows for everyone!!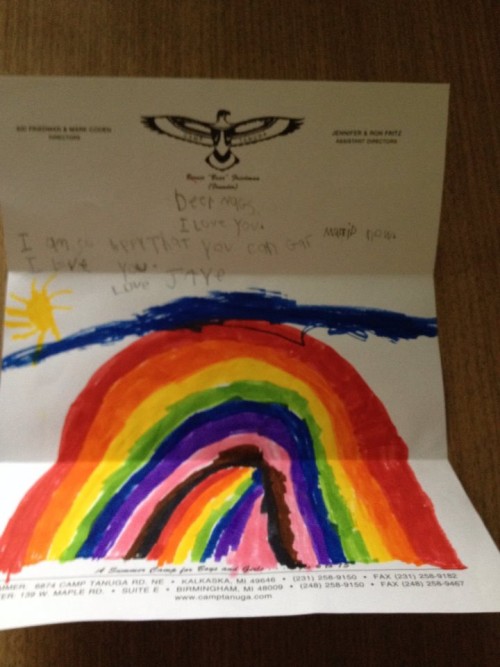 (This is a letter that JJ sent to her Uncle Nags when she found out that he is now allowed to get married if ever wants to):
Dear Nags,
I love you. I'm so happy that you can get married now.
I love you.
Love, JJ
Love is love, for everyone. How exciting is it to live through a time when that has finally been recognized in the eyes of the law?
(JJ also rode her bike for the first time without training wheels today. That has nothing to do with anything, but today was a big day all the way around.)
Yay for Gay! We had your back the whole time, and we always will.